Le schipperke est un amour de petit chien , peu encombrant, s'adaptant très vite à tous les cadres de vie
The schipperke is a love of puppy, compact, adapting very quickly to all the qualities of life
aujourd'hui j'ai 5 semaines today I have 5 weeks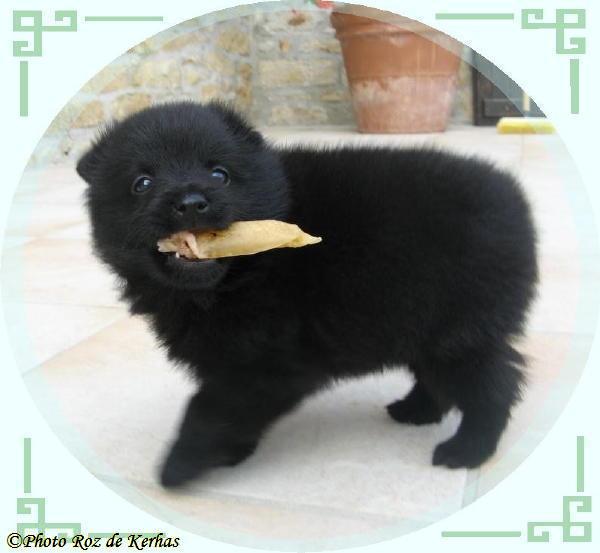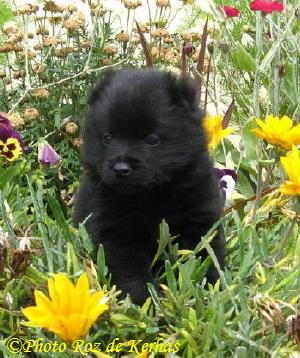 découverte de la nature Discovered nature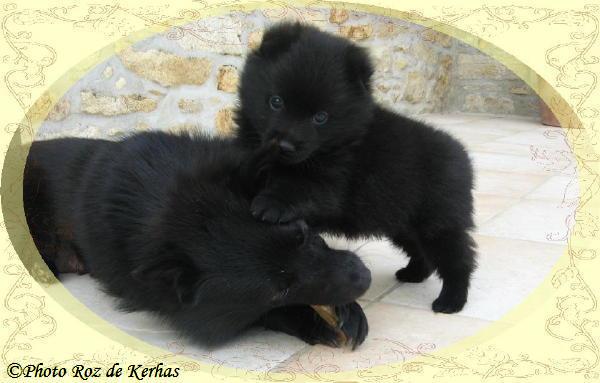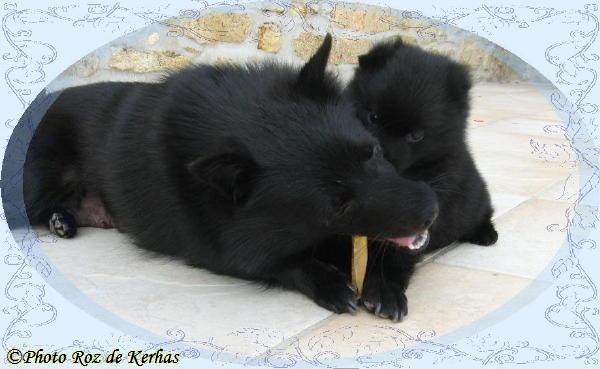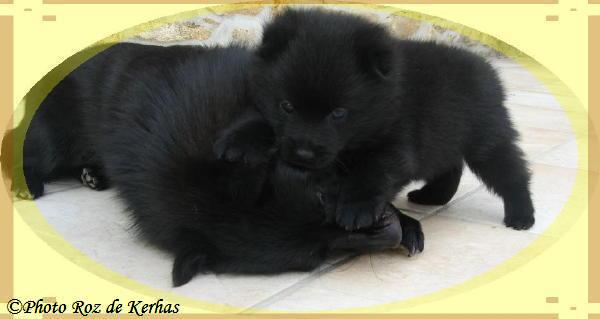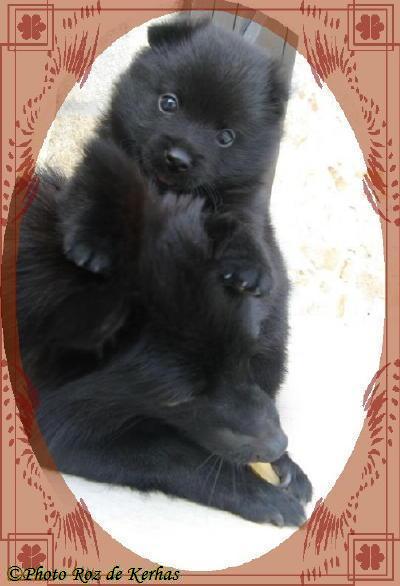 Jeux entre la mère et son fils Plays between the mother and her son.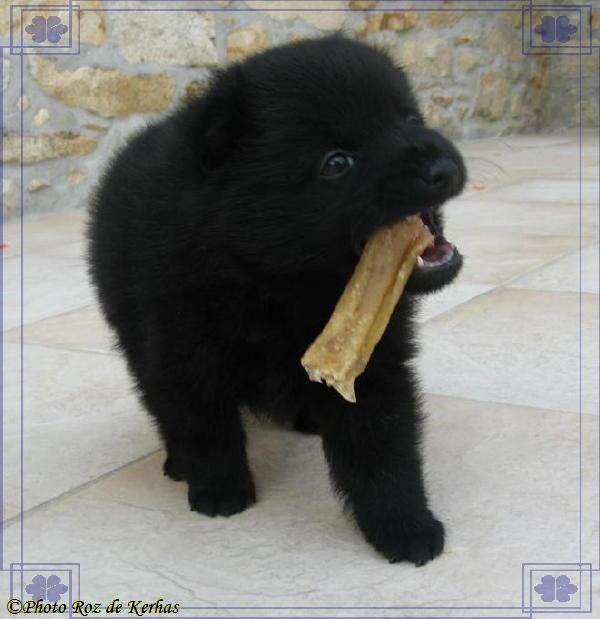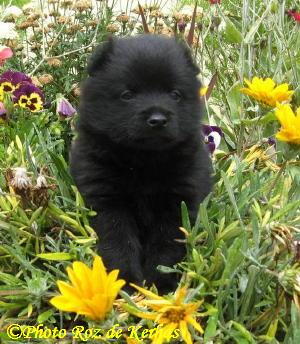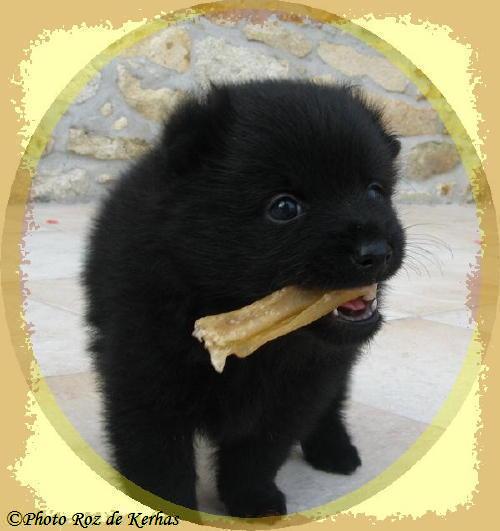 Que c'est bon un os en peau de buffle! surtout quand c'est celui que je viens de chiper à maman.
How it is good a bone in skin of buffalo! Especially when it is that which I have just bated with mom.
Aujourd'hui 03 aout 2008 ~ Today august 03, 2008
Aujourd'hui j'ai eu la visite du Domaine des Cytises. Venus en connaisseurs ils ont pu apprécier ma superbe fourrure bien noire, se rendre compte que ma dentition lactéale est au complet et en cisaille. Un vrai petit schipp en quelque sorte, bien dans sa peau, bien dans sa tête et content d'être là.

Today I had the visit of Domaine des Cytises. Come as experts they could appreciate my superb quite black fur, to realize that my teeth of baby are complete and out of shear. A truth small schipp to some extent, well in its skin, well in its head and glad to be there.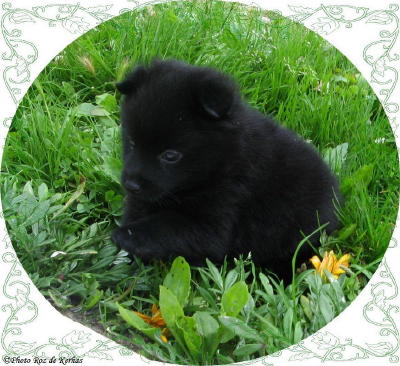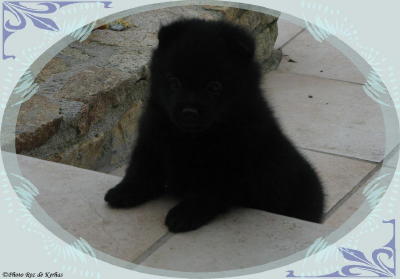 aujourd'hui j'ai 6 semaines today I have 6 weeks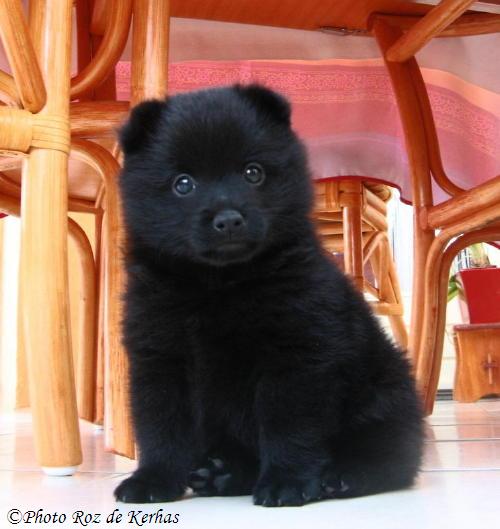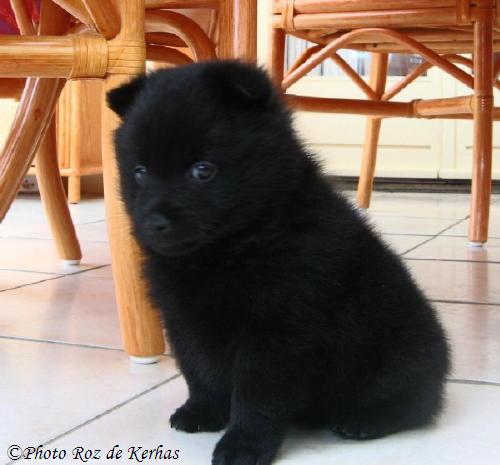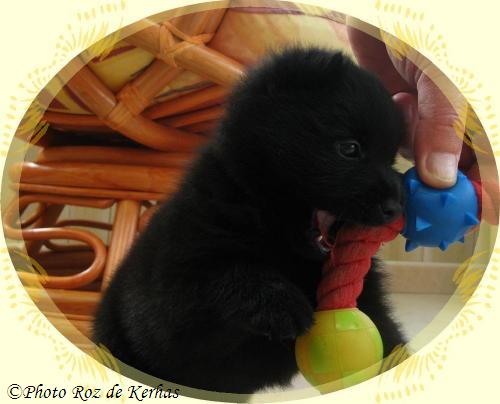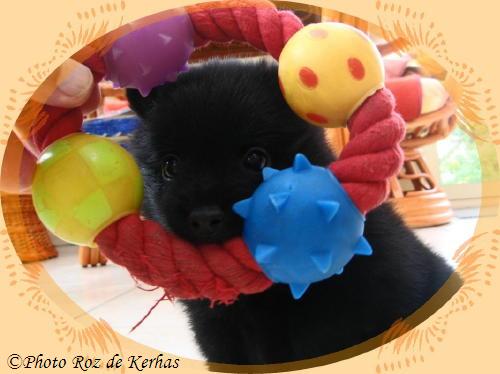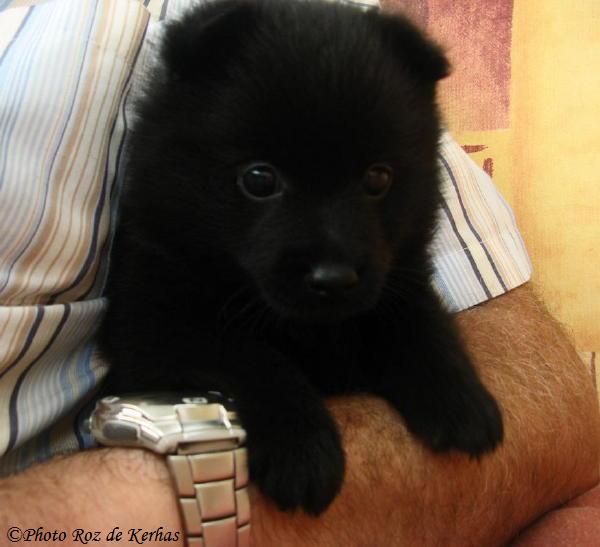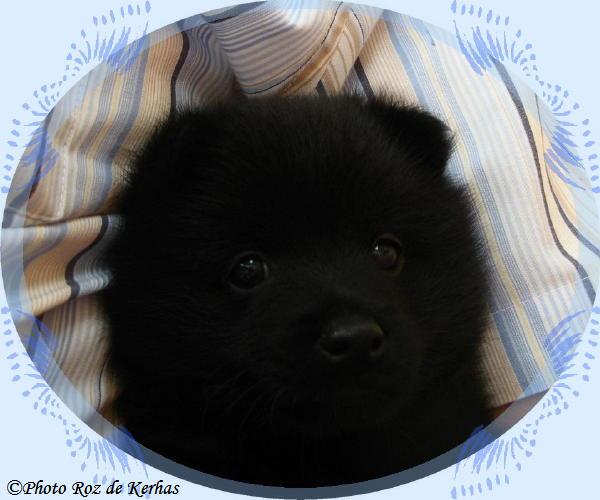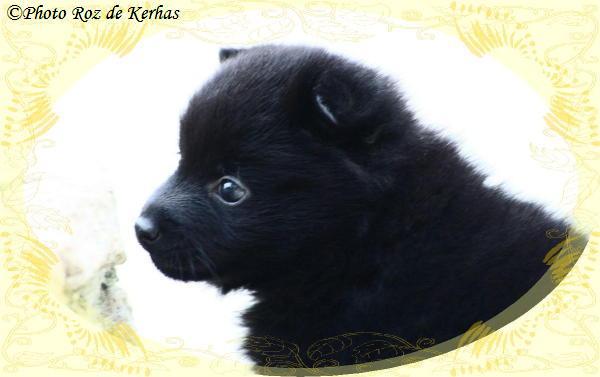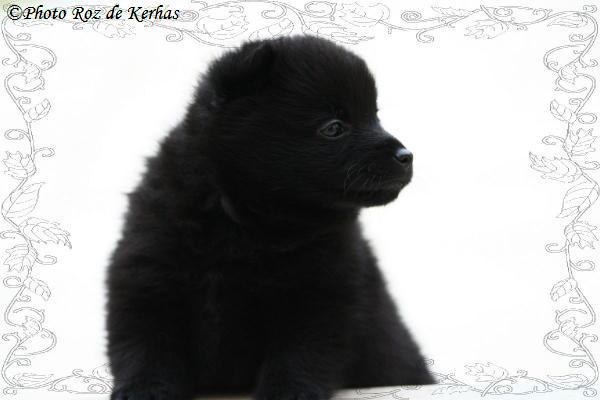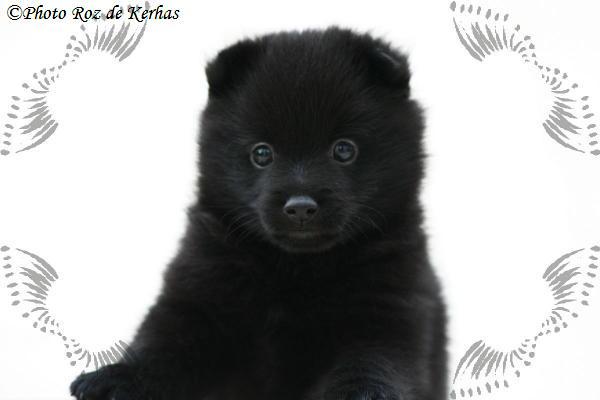 j'ai 7 semaines I have 7 weeks

Le temps passe vite, irrémédiablement vite et le moment ou je vais devoir quitter le Roz de Kerhas approche à grands pas. Chaque jour je découvre encore un peu plus le vaste domaine et je dois dire qu'à ce jeu je me défends plutôt bien car je retrouve toujours le chemin de la maison, les petits obstacles du début sont maintenant maitrisés et cela me donne un peu plus d'autonomie. Comme vous avez pu le constater avec mes oreilles bien dressées j'ai un look d'enfer.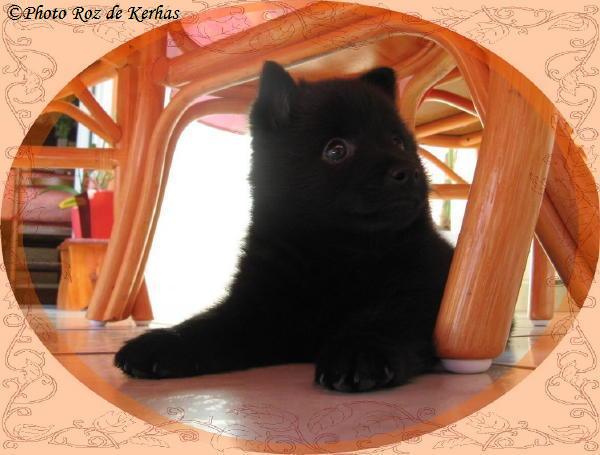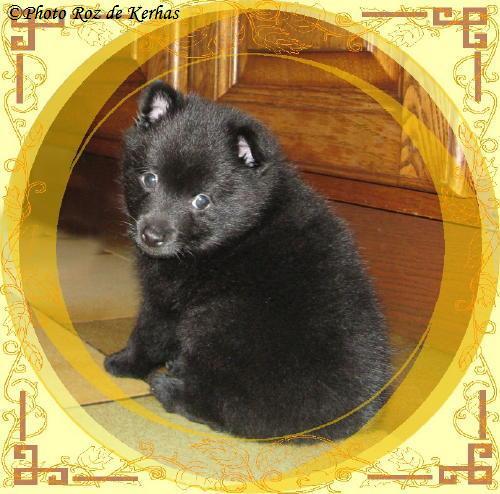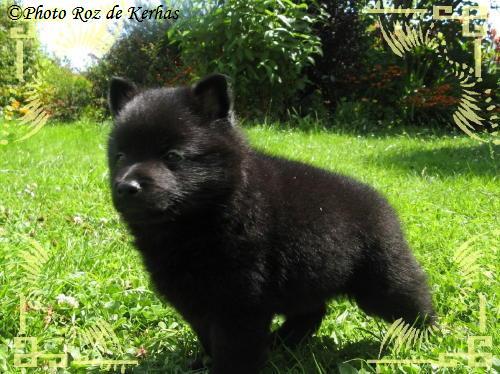 Time passes quickly, irremediably quickly and the moment or I will have to leave Roz de Kerhas approaches with great steps. Each day I discover still a little more the vast field and I must say that with this play I defend myself rather well because I always find the way of the house, the small obstacles of the beginning are now controls and that gives me a little more autonomy. As you could note it with my well drawn up ears I have a look of hell.

Aujourd'hui 15 aout 2008 ~ Today august 15, 2008

Ici les fleurs ne manquent pas et je m'y trouve très bien.

Aujourd'hui 18 aout 2008 ~ Today august 18, 2008

j'ai 8 semaines I have 8 weeks

Conformément à la loi du 6 janvier 1999, je viens d'atteindre l'âge légal à partir duquel un schipperke déclaré au LOF peut quitter réglementairement l'élevage dans lequel il a vu le jour. Pour ma part je suis très content de pouvoir rester encore plusieurs jours dans l'environnement familial et affectueux du Roz de Kerhas. Ce laps de temps supplémentaire va me permettre de revoir Stéphanie, Yves et Laurence lors de la mise en place de l'insert électronique d'identification et de l'inévitable séance de vaccinations (que je suis prêt à affronter ..). Mes futurs maitres m'attendent avec impatience, je les comprends car aux dires de tous je suis tout simplement craquant, je rassure tout le monde, j'entends bien le rester! (il y a tellement d'avantages à cela...!)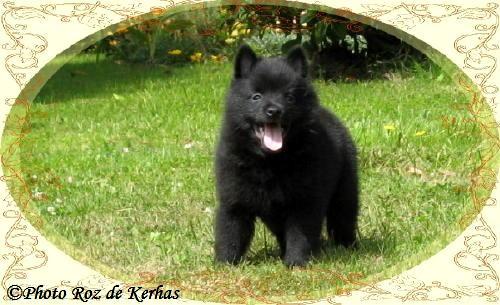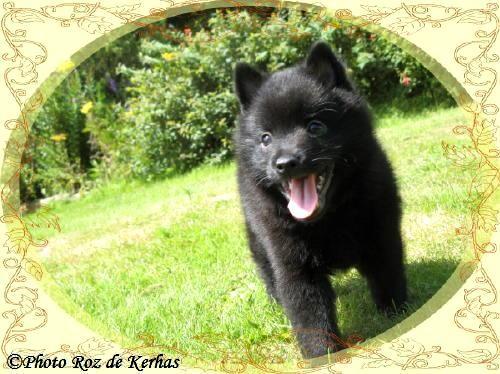 In France, in accordance with the law of January 6, 1999, I come to reach the lawful age from which a schipperke declared with the LOF can leave the breeding in the regular manner in which it was born. For my part I am very glad to be able to remain still several days in the home environment and affectionate of Roz de Kerhas. This additional lapse of time will enable me to find Stéphanie, Yves and Laurence at the time of the installation of the electronic insert of identification and the inevitable meeting of vaccinations (which I am ready to face…) My future Masters await me impatiently, I understand them because everyone says that I am quite simply cracking, I reassure everyone, I intend well to remain it! (there are advantages with that so much…!)
Découvrez la suite de mon album photos

Retrouvez-moi sur ma page d'accueil Find me on my banner page

Ma généalogie
Ch F cs ~ s.r

TIERSEN

du Roz de Kerhas

CSAU~TAN

Champion de France de conformité au standard

Champion de Race

Etalon recommandé

Reproducteur d'Elite "A"

Best in show de nationale d'élevage

Best in show de régionale d'élevage

Best in show de spéciale de race

Best in show d'exposition nationale

Vainqueur du grand Prix "Georges ARIN"

1er au classement des meilleurs reproducteurs des années 2011,2012,2013 et 2014

cotation: excellent 6/6

Sr Ch F CS

MAJOR du Roz de kerhas

Champion de France de conformité au standard

Etalon recommandé

Best in show de nationale d'élevage

Best in show de championnat

Vainqueur du Grand prix "Vos chiens magazine~Pedigree" du meilleur chien de race schipperke

Cotation excellent 4/6

IKARE

du Chemin des Venelles

Reproducteur d'Elite B

Cotation excellent 5/6

ILOA

du Manoir des Crocs Blancs

sr

RAE

du Manoir des Crocs Blancs

Lice recommandée

Cotation excellent 4/6

Sr MICKEY

du Manoir des Crocs Blancs

Reproducteur d'Elite A

Etalon recommandé

Cotation excellent 6/6

Sr OSIRIS

du Manoir des Crocs Blancs

Lice recommandée

Cotation excellent 4/6

du Domaine des Cytises

CSAU - TAN

Cotation excellent 3/6

Nationale d'élevage - 2e de la classe ouverte femelle

grand Prix "Georges ARIN"

2eme au classement des meilleures reproductrices de l'année 2014

NICK

du Plateau Langrois

grand Prix "Georges ARIN"

3e au classement des meilleurs reproducteurs 2011

Cotation excellent 3/6

ELIOT

des Gaillettes du Barrou

ChF CS~Sr GAELLE

du Plateau Langrois

Championne de France

Lice recommandée

Cotation excellent 4/6

Sr .Ch F CS ORPHEE

du Domaine des Cytises

Championne de France

Lice recommandée

Meilleur schipperke de l'année 2006 ~ 1er prix au salon de l'agriculture 2007

Cotation excellent 4/6

s.r IVER

du chemin des Venelles

Etalon recommandé

CSAU

Cotation excellent 4/6

Ch F CS~Sr LADY

du Chemin des Venelles

Championne de France

Lice recommandée

Cotation excellent 4/6