Les enfants de Nick du Plateau Langrois
Vous êtes sur la page d'accueil des chiots de Nick du Plateau Langrois. Pour les découvrir aux cours de leurs diverses phases d'évolutions, cliquer sur les photos interactives du tableau ci-dessous.

You are on the banner page of the pups of Nick du Plateau Langrois. To discover them with the courses of their various phases of evolutions, to click on the interactive photographs of the table below.
Au Domaine des Cytises

Retrouvez la descendance de Nick et de Orphée sur la page d'accueil Find me on my banner page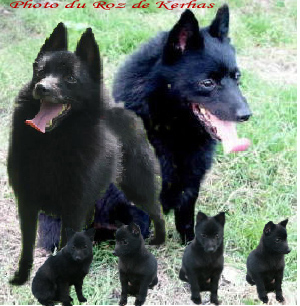 De petit gabarit, les grands espaces ne lui sont pas indispensables et le schipperke peut très bien se défouler dans un jardin plus exigu. De constitution solide et robuste le schipperke ne connait pratiquement pas de problème de santé.
Of small size, great spaces are not essential for him and the schipperke can slacken very well in a more exiguous garden. Of solid and robust constitution the schipperke practically does not know a problem of health.
©