Chien de race schipperke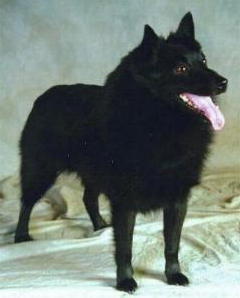 The character
Schipperkes have an excess of personality, which we do not find in other breeds. He is not easily impressed. It is an extremely curious, alert and watchful little dog, very affectionate, always busy, all the time nosing around and exploring.
the smallest shepherd dog in the world
By nature self-assured and tenacious; despite his size, no complexes whatsoever. He can be suspicious of strangers. He guards his house and family just like a big shepherd. His size makes him ideal for you if you are cramped for room or live in a flat: in that case he is the excellent guardian you are looking for.
House dog
He is very fond of children, but he will be suspicious of anyone trespassing in his domain. An adaptable housedog, for both city and country living; needs minimal grooming, only brushing and combing; trimming of the coat or modelling of any kind as in many small breeds completely unnecessary.
Working dog
Tireless, athletic, lively and agile, a small piece of dynamite. He's an attentive and very busy little fellow. He needs physical as well as mental activity. Playing with him, talking to him and training in basic obedience will keep him busy. His small size makes that he is completely happy and lives his live to the full even in a small garden.
That's the schipperke...
Conclusion: a small and (for this reason also) undemanding ideal housedog; he requires no special care and has a very low incidence of medical problems. Has a strong personality and is sometimes a bit stubborn; he wants personal attention and a loving treatment like a full member of the family; as a return he will do everything to please his boss or mistress. He is not easily impressed. Schipperkes are eager pupils and learn quickly. Relatively speaking a rather robust and sturdy little dog, he requires no special care and has a very low incidence of medical problems.
Life span 13 to 16 years; he will give you affection and joy (he's a little clown) for many years!